2022 has been quite a year for the BC Vault hardware crypto wallet. With multiple compelling partnerships, state-of-the-art functionalities and other countless feats. The most recent and noteworthy is the recent partnership with Crypto.com. This partnership serves as an avenue for project enthusiasts to enjoy the best of both worlds.
Recently, this partnership birthed the emergence of two innovations catering to Loaded Lions NFT holders as well as Crypto.com users.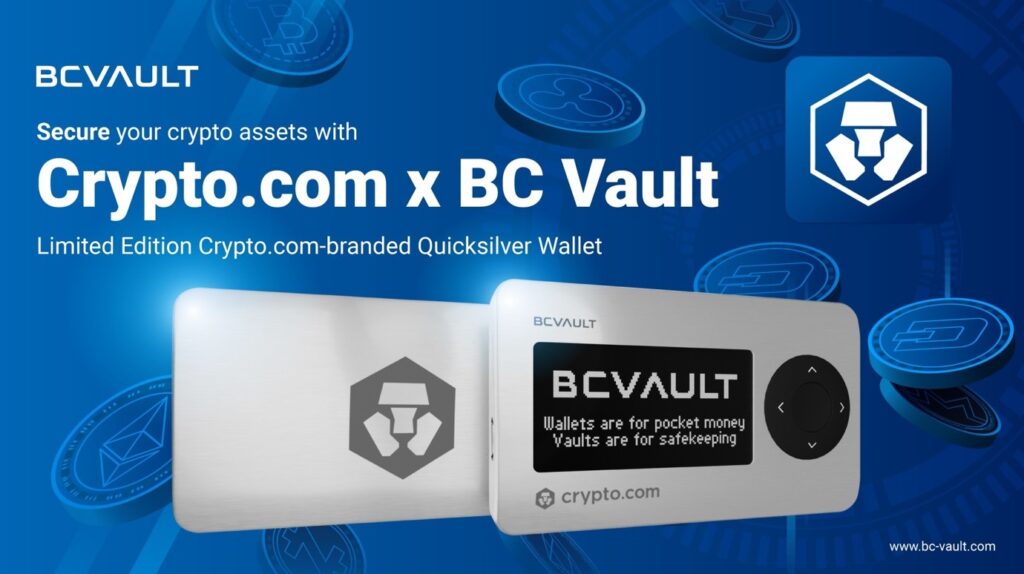 Get your Crypto.com branded limited edition at:
BC vault has an unwavering reputation as a heavyweight in the hardware crypto wallet space and as expected, it showcased this in the partnership with Crypto.com. Now, Crypto.com users can cash-in on the immense benefits synonymous with BC Vault and Crypto.com without hassle.
The metallic, lustrous and smooth limited edition Quicksilver crypto wallet branded with Crypto.com can help you safeguard your portfolio while creating multiple thousands of wallets right on the device. This introduces a form of flexibility to manage your crypto assets. Ultimately, you can rid yourself of concerns attributable to holding several crypto assets in different wallets. The Crypto.com branded wallet renders support for every major coin available so this shouldn't be a concern.
Besides its flexibility and wide crypto currency support the BC Vault also has quite a reputation when it comes to hardware wallet memory retention. The wallet leverages the innovative FeRAM technology (FRAM), boasting immense data retention that could last up to 200 years without a single power-on. A ranging concern in most hardware crypto wallets today is the use of regular flash memory, which not only reduces wallet lifespan, but is also very inconvenient in case of data loss. FRAM rids us of these concerns, offering several benefits including reinforced security, much higher speed and improved control over storage. BC Vault further leverages high-end encryption strategies to guarantee optimum security for your private keys. With this, you can store your wallet in a safe for several years without worrying about the integrity of your private keys.
The new Crypto.com branded quicksilver crypto wallet embodies an innovative approach to security, featuring five innovative layers – global password and pin, the device, encrypted backup, wallet password and wallet pin. With these security layers, intruders cannot get access to your crypto funds. No wonder BC Vault has a clean record of cyberattacks, fraud and other security concerns.
In a nutshell, offering a fine blend of durability, reliability and ease of use, the quicksilver wallet further leverages the dual firmware flash technology as an approach to shielding it again connection or power loss when updating the firmware.
BC Vault and Crypto.com launch the exclusive Loaded Lions NFT collection hardware wallet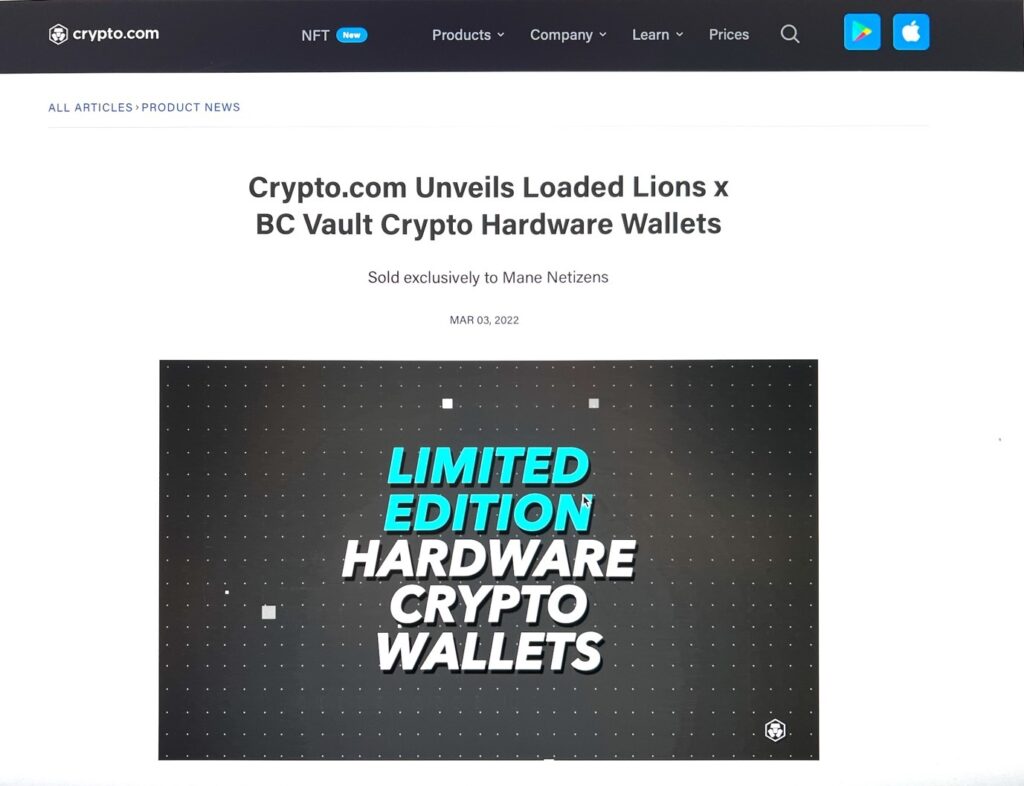 BC Vault is actively exploring the NFT space with the partnership with Crypto.com to create a limited-edition hardware wallet for the Loaded Lions collection. Loaded Lions are attributable to the Crypto.org chain with a collection of immensely popular ten thousand randomly generated NFTs. The sales for this wallet began exclusively for the Mane Netizens on March 24. The beautiful, smooth and picturesque wallet carries the loaded lion's logo design as decided democratically by the vote of the community itself. Check this limited edition: https://bc-vault.com/bc-vault-x-loaded-lions/
As NFTs are becoming extremely sought after and gaining significant traction, robust and reliable security becomes essential accordingly. What other way is there to guarantee this than BC Vault? BC Vault crypto wallets are created to store a wide range of crypto assets securely and of course you can also leverage them to secure and store NFTs without getting worried about security or integrity.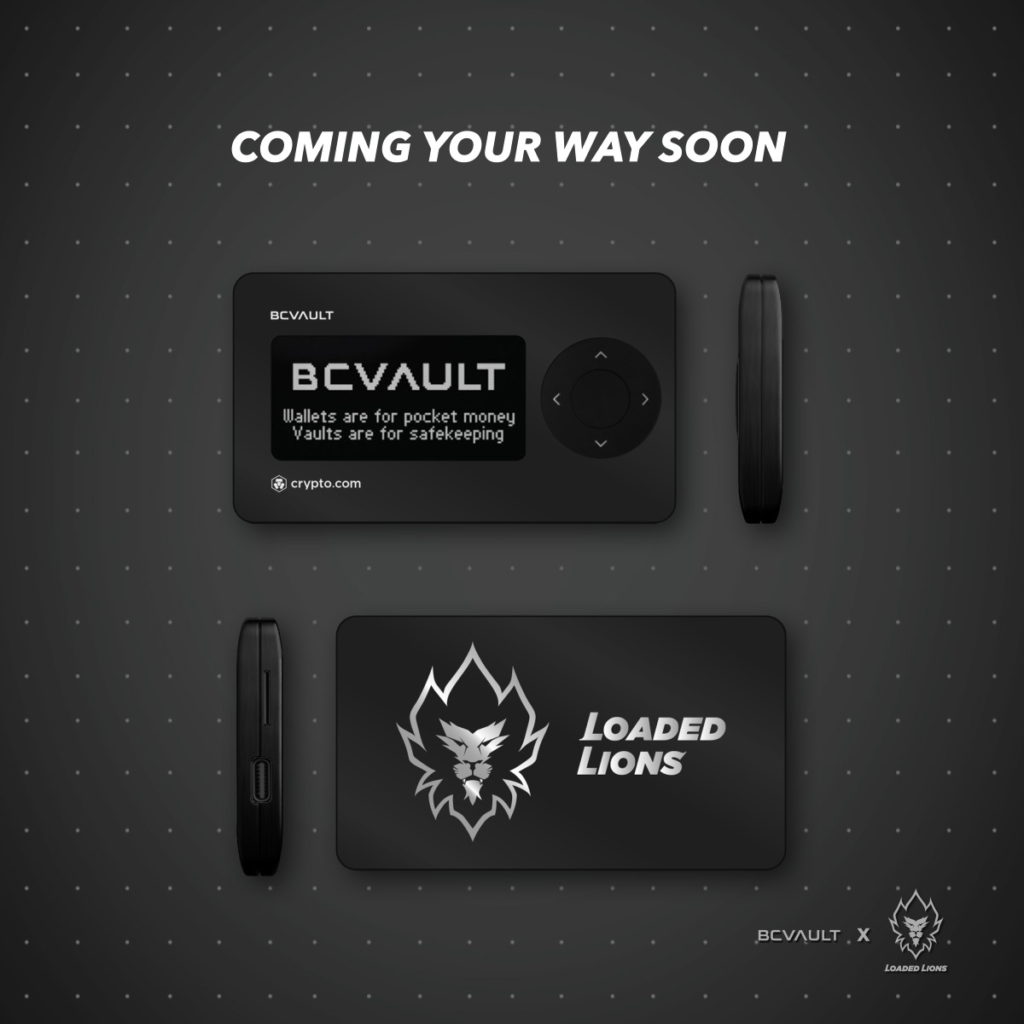 Mane Netizens bought the exclusive wallet at €265 each (retail price of €327 before shipping and tax) in a sale that lasted up to 6th April, alongside multiple giveaways as a way to reward Mane Netizens and give a glimpse of what they are to offer. Reviews and feedback from these efforts further cemented BC Vault as the most credible option for anyone looking to store and secure their assets over an extended period.
__________________________
About Crypto.com
Crypto.com is a heavyweight crypto exchange, sending support for a wide range of crypto assets, and other DeFi products and innovations. Users on the platform are able to transact an overwhelming range of currencies while enjoying relatively memorable transaction fees. Besides, Crypto.com is one of the few bringing cryptocurrencies into real-life utility with its credit card. With this, you can purchase things anywhere major credit or debit cards are accepted. Its NFT marketplace further cements its prominence in the decentralized ecosystem. Besides, as a user, you can stake to earn interests, offering you an avenue to earn more from your assets. As of today, the platform renders support for well over 250 currencies as well as advanced order types and Futures trading.
About BC Vault
BC Vault is a crypto hardware wallet that stores your private keys on a safe hardware device, whose design is tailored to the needs of both seasoned and nascent crypto investors. It embodies a reasonable blend of functionality, reliability, independence and security. BC Vault is birthed by comprehensive research, tests and the thirst to offer you a nonpareil experience.
Do you know what's more intriguing? Every shipped BC Vault device has a 1BTC bounty crypto wallet preloaded in it. In essence, every wallet has a private key for a wallet containing 1 BTC. If you can break it, you can be 1 BTC richer. But (un)fortunately, so far, no one has neither broken the encryption nor claimed the bounty. Ready to try?