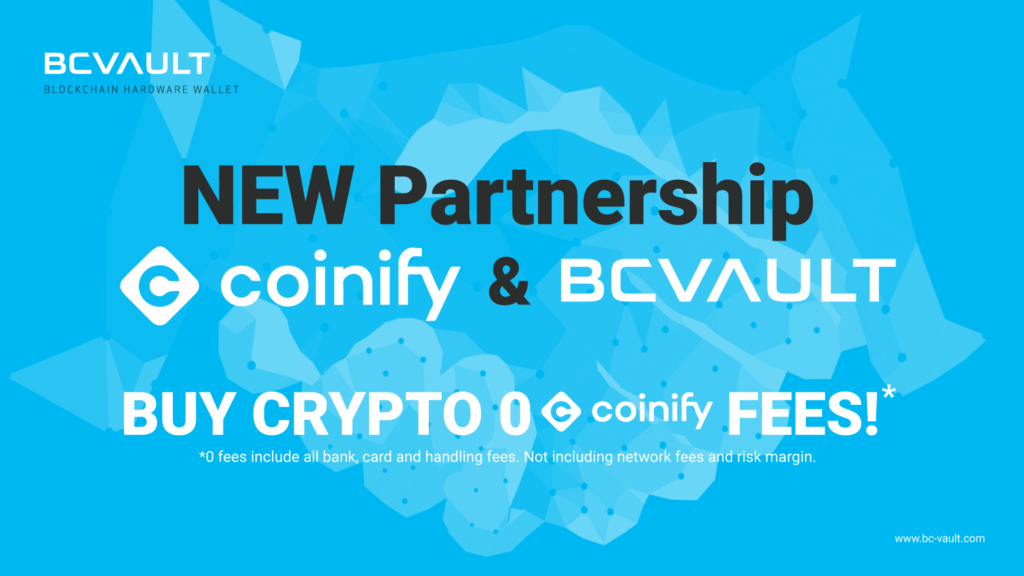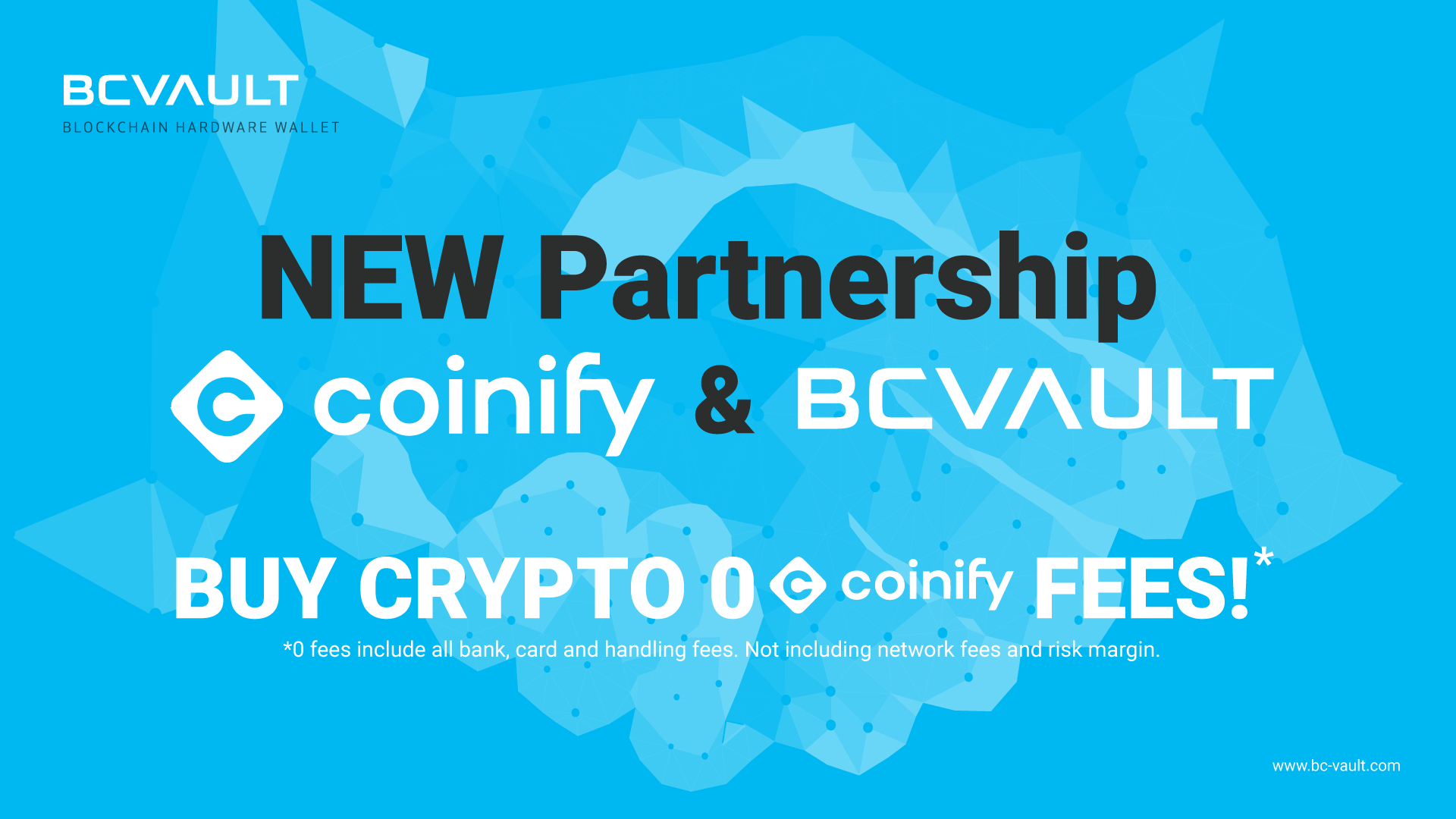 The BC Vault, a new generation of crypto hardware wallets, has partnered with the global virtual currency platform Coinify. From now on Coinify's competitive crypto trading services will be available to BC Vault's users.
Launched in 2014, Coinify has since established itself as a leading global digital assets company. This collaboration with Coinify aims to strengthen BC Vault's strong position on the crypto hardware market, building one more solid bridge to the fiat world.
Now that Coinify is integrated into BC Vault's desktop application, it has been added to the existing list of fiat-to-crypto providers, thus BC Vault's users will gain seamless access to Coinify's services.
With the wide variety of payment methods available, the extensive choice of cryptocurrencies, and the simple and easy verification process, this collaboration is a joint push for making cryptocurrencies even more easily accessible.
To celebrate this new partnership, users of BC Vault who are interested in buying BTC, ETH, BSV, and many other currencies will be able to do so without paying bank or card transaction fees* for 14 days, starting from Black Friday – 26.11. 2021.
*0 fees include all bank, card, and handling fees. Not including network fees and risk margin.
About Coinify
Coinify is one of Europe's top virtual currency platforms. With more than 40 million customers and 48.000 merchant signups from 180 countries around the globe, we have an established place in the crypto market.
Every day millions of transactions from crypto wallets, exchanges, online shops, and local supermarkets are made with the help of Coinify. We strive to help businesses bridge the gap between traditional and cryptocurrencies by offering a customizable and easy-to-integrate payment processing solution.
For more information, visit https://www.coinify.com
Follow Coinify on LinkedIn: https://www.linkedin.com/company/coinify/
Follow Coinify on Twitter: https://twitter.com/coinify
About the BC Vault
BC Vault is a non-deterministic hardware cold wallet with zero security incidents, featuring crypto swap/buy functionality within native interface allowing users to instantly perform the exchange of digital assets without compromising security.
The BC Vault stands out with a unique combination of security and usability to secure digital assets: private keys are encrypted and stored in state-of-the-art storage medium Ferroelectric RAM that has retention of over 200 years prone to magnetic fields. The device has a U2F functionality and a built-in encrypted Micro SD card backup. Each BC Vault is pre-loaded with 1.0 BTC as a company commitment to its security promise.


Official BC Vault website: www.bc-vault.com
BC Vault's Twitter: https://twitter.com/bc_vault#
BC Vault's Telegram: https://t.me/BC_Vault
BC Vault's Facebook: https://www.facebook.com/bcvault
For any additional questions or ideas please feel also free to contact us at: