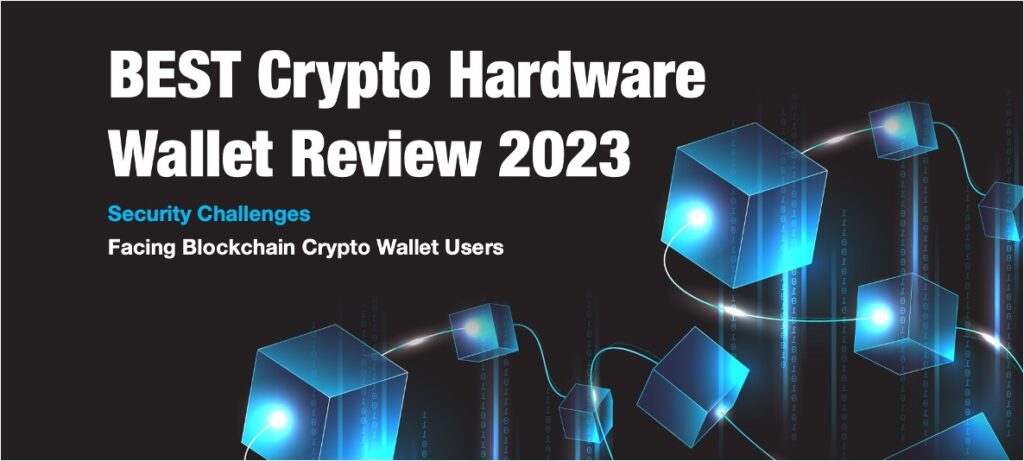 BC Vault vs Ledger and TREZOR
A crypto wallet is the genesis of it all for anyone looking to actively participate in the blockchain ecosystem. It is the key to the kingdom — the foundation. So, getting this wrongly means you're building your entire financial journey on a shaky foundation.
For this reason, we have decided to undertake an independent test between three of the most sought-after crypto wallets, Trezor, Ledger and BC Vault.
BC Vault just recently announced a significant update to its platform. The update includes support for over 80 blockchain networks and over 8,000,000 assets (coins and tokens), including support for NFTs. Additionally, the company has added Walletconnect compatibility and support for all EVM style blockchains, allowing users to use their BC Vault with web applications such as Uniswap, OpenSea (NFT), Polygon Wallet, MyEtherWallet, Ethereum, Ethereum PoW, Avalanche C-Chain, Polygon, Cronos and more. BC Vault has also added support for Avalanche C-Chain blockchain which will allow users to send and receive AVAX and all ERC20 and ERC721 tokens on it.
The update also includes a new feature that allows users to see changes in cryptocurrency prices for the last hour, day, week, and month directly within the application. Additionally, the company has simplified the transaction fee selector and fixed bugs. The next major release, version 1.7, brings support for new currencies, networks, tokens, WalletConnect, improved ease of use, and bug fixes. The company also highlighted Polygon (MATIC), BNB Smart Chain (BSC), Huobi (HT) & Fantom (FTM) on BC Vault. Those networks are now natively supported in BC Vault, this includes all ERC20/BEP20 tokens on these networks. The company also added support for BEP2 tokens on BNB Beacon Chain and support for tokens on the Cardano Network. Furthermore, users can now copy wallets (private keys) between compatible networks, allowing them to easily and securely claim tokens if they have received them on the wrong network.
Last but not least BC Vault announced last week partnership with Unstopable domains which means that users of the BC Vault can now send crypto to named wallets and give unique names to their crypto wallets and replace long, complicated wallet addresses with a single easy to read name. More on that: https://t.co/oljdJcVvqV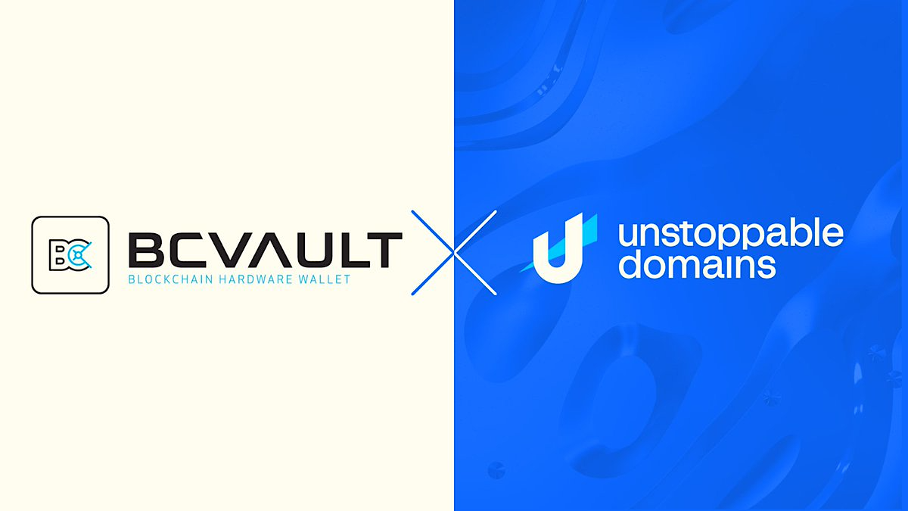 But let us now jump to the deep analysis of 3 leading wallets which was prepared by Marko Vidrih, experienced researcher with extensive background in technology and financial principles, project leadership, and the effective application of research in technological companies. He brings forth extensive experience in performing research on product development processes and offering solutions and alterations to improve safety and effectiveness.
Trezor, BC Vault, and Ledger Comprehensive Review
We will analyse these wallets under different criteria necessary for the best user experience. These include security, supported currencies, build and storage, features, and several others.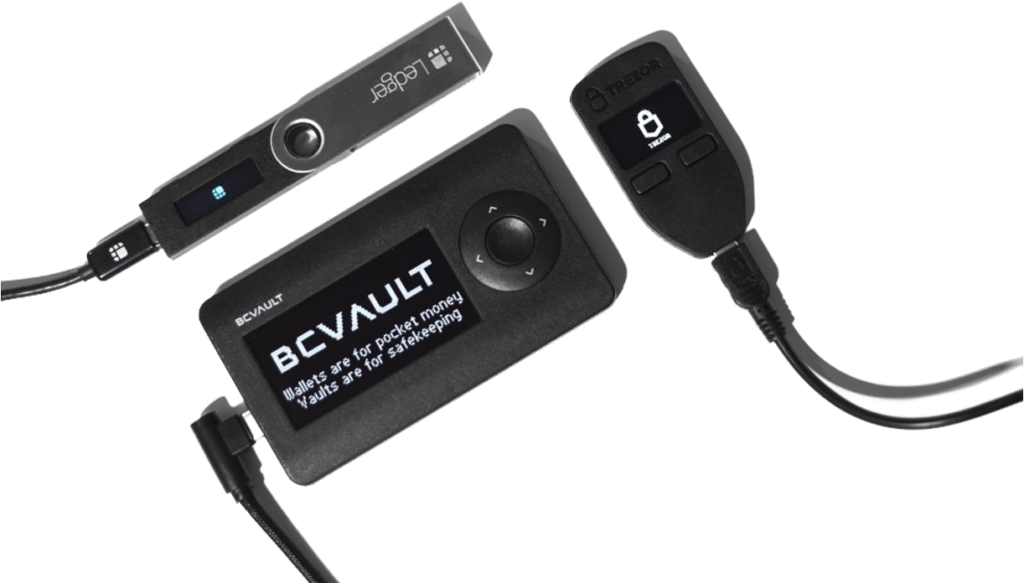 Supported Currencies
New cryptocurrencies are emerging every now and then. Projects are becoming dotted almost everywhere in the ecosystem. So, fully leveraging the profitability potential embedded therein, it is essential to tread the path of a wallet with more comprehensive cryptocurrency coverage. Ledger allows you to use well over 5,500 coins and tokens. Well, this is more than what you'd typically find in most wallets around today. The same is true with Trezor, rending support for over 1500 coins. These include the popular ones like BTC, ETH, DOT, XLM, etc.
However, some Trezor models like the One hardware wallet don't allow you to use ADA, EOS, YFT, etc. natively in-app but you need to use third party extensions and follow complex procedures. This limitation extends to Ledger as well.
Fortunately, it seems the third option has a solution to this. BC Vault renders support for well over 8,000,000 coins and tokens. These include every Cardano, ERC-20/BEP-20, BEP-2 tokens, and every other cryptocurrency you can think of.
Even better, BC Vault allows you to add any custom token of your choice directly to your wallet without any third party. You can include coins across Heco, Cardano, Polygon, Ethereum, and several other blockchains.
With Ledger and Trezor, this is not the case. Usually, you have to use external services, such as MyEtherWallet, before you can use custom tokens with your wallet. And guess what that means? You're exposing your wallet yet again to risks you can potentially avoid.
BC Vault takes this a step further with an "auto detect" feature. Essentially, this feature automatically finds the token you currently have in your wallet and creates the custom token definition that fits your bill.
Backups
One thing is uniform about Trezor and Ledger — you must always buy a backup. Of course, you might be thinking, "well, there's paper; shouldn't that serve as a backup?" Well, that's not the case. Paper can't be deemed a backup, as it is unencrypted. Same is true for Crypto steel — metal cold wallet phrases mnemonic — yet it sells from $136 to almost $500.
On the other hand, BC Vault — on addition to free QR code backup on paper — uses an innovative and cost-effective approach to backing up your data. You can use several cheap MicroSD cards for your information, depending on how many copies you want. Note that one MicroSD card is already included in price with BC Vault, yet any additional should cost you less than €2 to €4. However, if you're looking to truly back up your data with Ledger or Trezor, be ready to spend up to €100. That's a staggering cost difference.
Another thing to note is that when anyone gets a hold or 24 words seed phrase on Trezor or Ledger, your funds and portfolio are no longer safe. This susceptibility even extends to the wallets you'll potentially use in the coming years. But with BC Vault, your wallets are unlimited. As such, when anyone tries to lay their hands on your backup, they cannot reach any cold wallet you create subsequently even if they would also have all required passwords and pins (as BC Vault backups are fully encrypted). Also, it is worth mentioning that every wallet you create on the BC Vault has a name that also reflects on the backup.
Ease of Use
Firstly, it is worth mentioning that BC Vault is the only wallet to render multi-language support. These languages include English, German, Chinese and Slovene.
The installation process and hitting the ground running with your BC Vault wallet typically take less than 5 minutes. However, this is not the case with Trezor and Ledger. Before using Ledger or Trezor, be sure to have at least 20 to 30 minutes of spare time to set up the wallet.
Note that this amount of time only applies if you actually know what you have to do to set it up. So, if you're a beginner, plan to use up to an hour in just the setup process alone.
This outrageous amount of time stems from the fact that you have to install additional software for many currencies and ecosystems. For example, let's say you want to use Cardano. You must install the Cardano Softwallet, ADAlite, NamiWalllet, etc., before you can stake, trade NFTs, buy or perform other actions on the wallet. These processes can be overwhelming and headache-inducing, especially for first-timers.
Besides the stress that accompanies the processes, you're also potentially exposing your wallet to a number of dangers and breach tendencies. So, in terms of ease of use, BC Vault is your best bet. To further cement its ease of use, BC Vault allows you to sell, trade, and swap your tokens directly in its application. You don't need any third party software at all.
BC Vault also allows you to create an additional wallet on one device. This wallet can have its specific password and pin. As such, it becomes way easier to share a device among several people in a household. Everyone will have their wallet and specific pins that the other party might not even know about. Unfortunately, you can't get this with Ledger or Trezor.
Another integral feature of its ease of use is the ability to copy your private key between blockchain networks on the device. This is the feature beginners, and non-crypto-savvy individuals will find helpful. For instance, assume you have MATIC on an ETH wallet (on the Ethereum network). Then, if you send the token to another wallet on the Polygon network instead of Ethereum, expectedly, the money will never reach its destination. With BC Vault, you can avoid this. All you have to do is copy your ETH wallet to the Polygon network, and you have a solution to your concern. Besides, you are carrying out the process in the comfort of your device. As such, you're not exposing your key in any way. Even better, you can copy your private key across every wallet the device supports.
So, if you've been stuck between choosing a network to transfer to exchanges, here is your way out.
Build and Design Quality
The body of the Trezor and Ledger wallet is made of reinforced plastic, while BC Vault offers both, plastic and aircraft-grade BC Vault construction with brushed aluminium (identical in function). This gives you the feeling of luxury that everyone in the ecosystem deserves. In terms of display, BC Vault embodies a straightforward, intuitive interface, contributing to the desired user experience synonymous with the wallet.
Worth mentioning is a big difference in screen size at BC Vault, which is heavily important for verifying the information you are actually signing.
That's not all. Imagine a wallet that allows you to engrave your preferred NFT on its case. That's BC Vault. In fact, all you have to do is select your preferred wallet and customise it by adding texts, uploaded designs, backgrounds, etc. Then, order your finished branded design.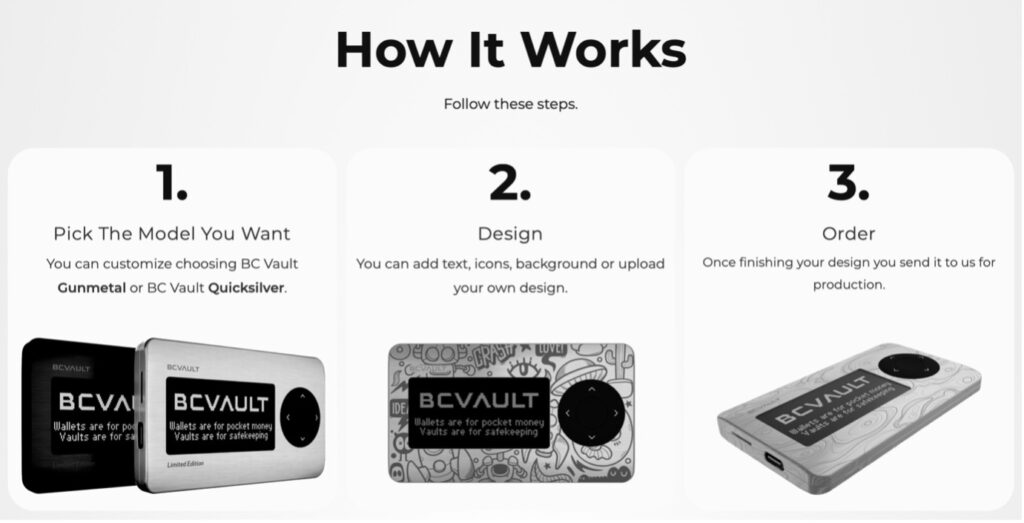 Security
When it comes to security, BC Vault edges Trezor and Ledger. It took a step away from the usual BIP 39/44 framework and flash storage. Instead, it helps save your private keys with the FeRAM (Ferroelectric RAM). This offers you a more significant writing cycle than what you'd typically get from your conventional flash storage.
With regular usage, FeRAM can last you up to 200 years. Meanwhile, flash only promises you a maximum of two years of life span under extended and demanding use.
BC Vault has a wallet delete feature to further confirm its spot as the most secure option. This is absent on Ledger and Trezor, because wallets on these devices are linked to one seed phrase. So, you cannot delete one individually. But this is not the case with BC Vault. Each wallet can have its specific password and pins. So, you can permanently delete one without taking a toll on the other. Since these wallets are independent, the exposure of one password or pin affects just that specific wallet. It doesn't translate to others as well.Similarly, even if anyone gets a hold of your global password and pin, and even a specific wallet password and pin, they can do nothing with your wallet. This is because they need your backup alongside those pins. And remember, no one can create a backup remotely without confirming it physically on your device.
Furthermore, the BC Vault offers the most secure way to store your NFTs. It secures all relevant data on the app and can help send your assets out securely when necessary.When choosing a crypto wallet, there are several uncertainties and what-ifs. What is your company die? What if this and that happens? So, to prepare you for these unforeseen circumstances, BC Vault allows you to export your private keys and import them elsewhere. This process can be quite demanding, of course. This is to prevent anyone from quickly accessing your private keys. Find the procedures here.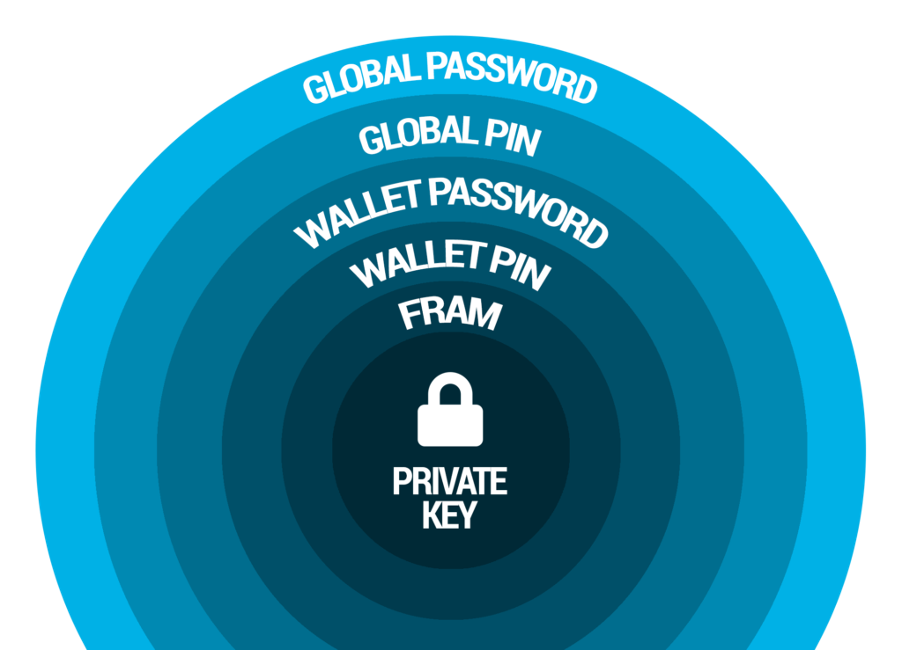 User Experience
BC Vault has reliable customer support with 24/7 availability. They typically cater to your concerns within a few hours. However, according to Trustpilot Trezor and TrustPilot Ledger reviews, it takes between a week and a month before Ledger and Trezor attend to your concerns. According to the Trustpilot, these wallets have very different user reviews.

For an even more immersive user experience, BC Vault preloads every one of its devices with a 1 BTC bounty. So, if you're up for some challenge, this is one for you.
While Trezor and Ledger render support for Metamask, BC Vault has something even better with WalletConnect. With WalletConnect, you can connect with several wallets like TrustWallet, Metamask, MyEtherWallet as well as DeFi applications and websites such as Uniswap Exchange, Opensea NFT Store, and several others.
Wrapping Up
Important to note is that hardware wallets, although it is the safest and most secure type of wallet for crypto, aren't entirely impenetrable to hacks. Crypto hardware wallets are designed to keep your keys safe from threats and attacks deployed from connected devices, but physical hacks can target hardware devices themselves. If you don't want to risk losing access to your crypto, it is absolutely essential that you carefully safeguard your seed phrase. A recovery phrase should never be stored digitally, even if it's password protected. If the device it's stored on ever goes online, it could potentially be exposed to hackers or thieves.
The common seed phrase scam is phishing, in which the attacker creates a sense of urgency, asking the target to submit a seed phrase on a phishing website or through a form. Out of reviewed three, without a doubt, Ledger and Trezor are good wallets. However, they've had a significant share of problems, controversies, and difficulties since its inception.
Ledger is the most talked about. Of course, that's expected for a wallet with over 5 million sales, over 5,500 currencies support, an intuitive Live app, and a one-stop shop for crypto assets. It allows you to stay in control of your funds, whether online or offline, on its versatile device. However, it does only little when it comes to securing your funds. Last year, we had cases of hacks and breaches on the wallet. Even though the brand tried everything possible to keep this covered up, the truth came to light ultimately.
Besides, on BitcoinTalk, users revealed Ledger has been misleading its users with wrong information about its battery and other specifications. Also, reports from Trustpilot indicate the nonchalant attitude of the brand towards customer support.
Similarly, Trezor was the first to hit the crypto market. However, it is safe to say it's one of the easiest major wallets to hack today. Ledger and Kraken Labs confirm this ease of hack. Similarly, according to Cointelegraph some successfully hacked into the Trezor wallet of a user who couldn't remember their seed phrases and password.
All in all, don't be deceived by reputation. The first or the most popular is not always the best. So, be sure to do your own research and assess your choices by considering various criteria. To mention a few, these include ease of use, security, durability, and, most importantly, user experience.
For more info visit: www.bc-vault.com
Or email us: info@bc-vault.com